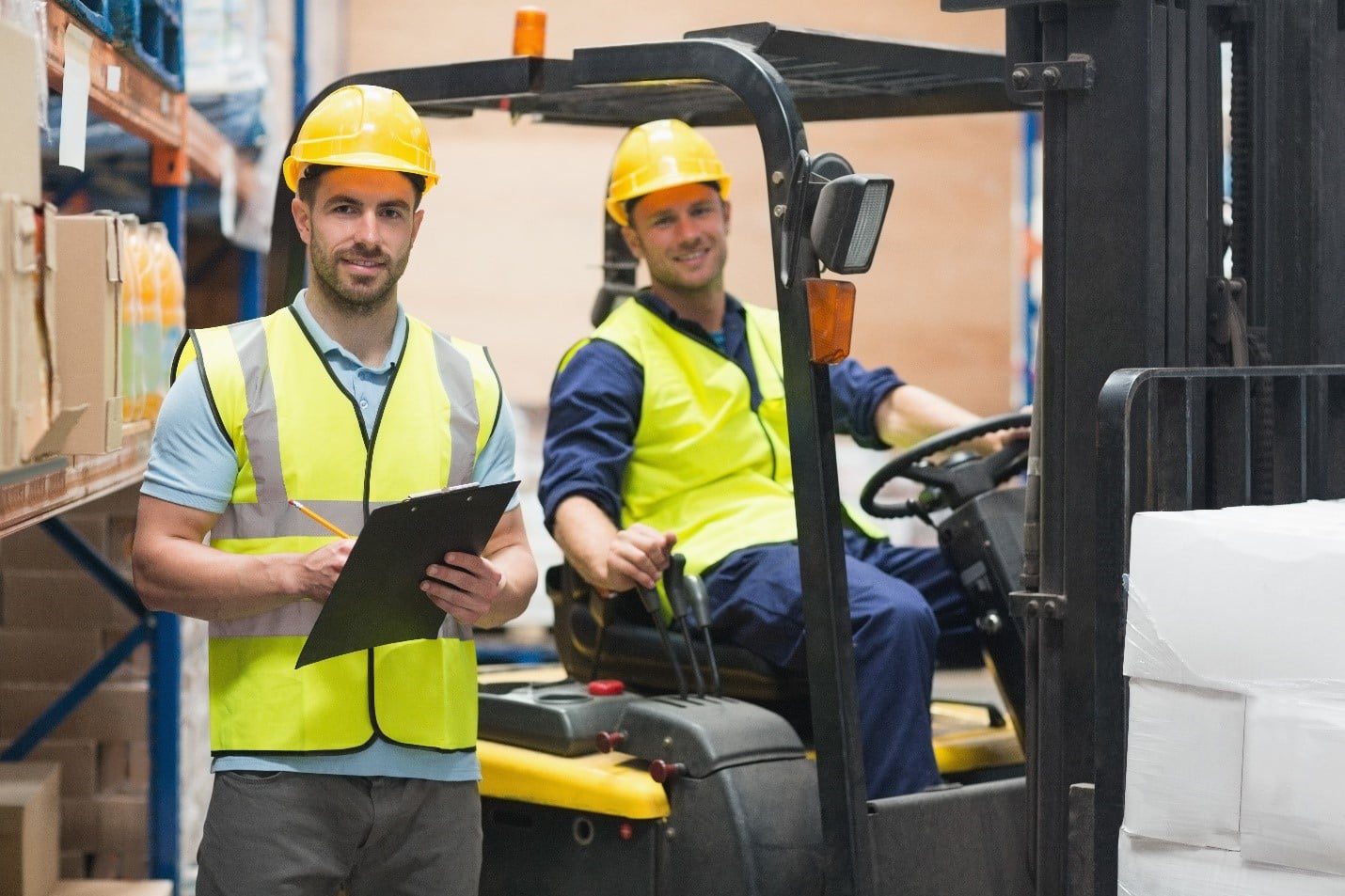 How to Get Your Forklift Certification/Forklift License
And Everything Else to Know About Becoming a Forklift Operator
With the extreme growth of online retail in recent years, there are more distribution center and shipping depot operations in existence than ever before, especially here in our favorably located home region of Central Pennsylvania. This is great news for individuals with forklift operation experience and valid certification, as there are many well-paying jobs available even as certain other industries are on the decline.
Warehouses and shipping service providers need to move material quickly and efficiently to assure consumers can receive goods when they expect them, and this requires help from forklifts, tow motors, and lift trucks. This heavy equipment calls for safe and skillful operation, however, and proper certification or licensure is prerequisite for employment as an operator.
If you're looking for a career change or will soon be out of school and entering the workforce for the first time, learning to operate a forklift and becoming licensed to do so in warehouse, factory, or even construction job site settings may be right for you. Here's what you need to know.
Career and Industry Projections for Forklift Operators
The United States Bureau of Labor Statistics (BLS) groups forklift operators with other material moving machine operators to report information about career growth projections, salary averages, and more. (These include crane, conveyor belt, and certain excavation equipment operation jobs that also require on-the-job training and licensure, as forklift operation does.)
For all material moving machine operators, average annual pay was $34,830 as of May 2017, and demand is projected to grow by about 6% by the year 2026, which is considered healthy, average growth for this field.
What's more exciting for Pennsylvania-based aspiring operators is that average annual pay is reportedly quite a bit higher than the national rate at $37,780, which is based on high demand.
Interestingly, Pennsylvania has the 4th highest employment level specifically for "industrial truck and tractor" (aka forklift) operators in the entire United States. Becoming a forklift operator in PA is definitely a smart move in a competitive job market!
Forklift Training Prerequisites
Being hired for a job where you'll be required to drive a forklift is usually the reason people undergo training and certification, though, as we mentioned, you can become certified first and then look for jobs – the order of these steps is up to you and the employers you want to work for. You must be certified to drive a forklift for an employer, though. Occupational Safety and Health Administration (OSHA) rules state that uncertified individuals are not allowed to operate forklifts, so you, unfortunately, will not get much operating experience before you're certified.
Of course, all you really need to possess to begin training in a certification course setting is a willingness to learn and a commitment to safety. Many employers will require you to have a high school diploma or equivalent to be considered for jobs because OSHA does not allow people under 18 to complete forklift operator certification courses, but formal education is not required to be eligible for training.
The BLS also lists a few additional qualities that great forklift operators usually possess. These include alertness, communication skills, coordination, and visual ability. Being mechanically inclined is also helpful, as operators may be called upon to perform basic maintenance on forklifts or help troubleshoot problems with the machinery.
Pennsylvania Forklift Certification Classes and Schools
Because the demand for forklift operators is so high here in PA, there are many training programs available from a wide variety of providers, including technical schools, staffing agencies, equipment manufacturers, and more, all across the state.
If you're currently looking for a job, checking in with these resources is where you'll want to start to find out when training is being offered. PACareerLink can also help connect you with training. More than likely, though, your individual employer will provide the training you need to receive certification so you can get to work operating forklifts in their facilities.
No matter where you receive your training, OSHA requirements and state rules dictate that it must consist of several components, including listening to a 4-hour long lecture. Once you've been trained, you will need to pass written and practical skills tests to receive your certification or forklift operator's license.
Types of Certifications for Different Types of Equipment
If you're new to the world of material moving equipment, including forklifts, you'll discover that there are many different types, and OSHA requires employers to certify training on each and every different machine you'll be using to do your job.
This includes equipment, like pallet jacks, that you may not immediately think of as being in the same class as forklifts. However, if the equipment is powered and made to move material, whether you stand or sit to operate it, operator certification is required. Any of this equipment can pose an extreme workplace safety hazard in the wrong hands.
As a job-seeker, you don't need to worry about obtaining all of these different certifications in order to be eligible for forklift operator positions. Generally, your employer will want to see that you're certified in general forklift operation and will then help you get trained on more specialized equipment they want you to operate.
Salary for Licensed Forklift Operators in Pennsylvania
As we mentioned, salaries for trained and certified forklift operators in Pennsylvania average around $37,000 per year. This means, though, that you may actually make more than that number depending on your employer and the industry you're working in. According to BLS survey data, some PA forklift operators make as much as $52,880 per year, though such high paying jobs tend to be rare, as they are in more specialized industries like electric power generation and port shipping operations.
Where to Find Jobs Once You're Certified
If you've become certified as a forklift operator, but are searching for jobs, PACareerLink is an excellent resource to get connected to employers who are actively looking for workers like you. Employment/staffing agencies that help place workers will also be excited to talk to you – you can often find their ads in local newspapers or online job boards.
If you become interested in fixing and maintaining forklifts, there are also businesses that specialize in caring for these hardworking machines, and you may consider becoming a trained forklift technician. Or maybe you enjoyed your training experience so much that you want to become a trainer yourself. Your forklift operator certification can lead you in many different directions depending on other interests and skills you may have!
Primary Licensing Authorities for Forklifts
Unlike regular driver's licenses, which are issued by the state you live in, forklift "licenses" are not granted by a single authority. Your training and certification must be compliant with OSHA regulations, as your employer could be fined if OSHA discovers that employees without the prescribed training are operating forklifts, but OSHA does not send you a specific license.
Your training program will issue some type of proof of completion that may include a card for your wallet or an official certificate that you can show to prospective employers as a job candidate, but if you are trained on the job, your employer may hold this proof in your personnel file.
Getting Re-certified
OSHA has a requirement that employers evaluate their forklift operators once every three years to assure that they are following best practices for safety, but you will not need to be recertified once you've received initial certification and training.
You may also be called upon to do refresher training if you've been involved in an accident, receive poor marks on an evaluation, or if your employer introduces new equipment. If you've been certified in the past and have experience safely operating forklifts, finding a new forklift operator job with another employer is often not difficult.
Are you a current forklift operator looking for a lift?
Here at Sam's Mechanical Service LLC, we're the forklift experts. If you're in need of a new forklift to purchase or rent, or repairs on your current equipment, we can help! Get in touch today to discuss your needs.